Before we begin: "Do you two…[searches for words]…fondue?" Captain America naively asks his love interest, Agent Peggy Carter, about her relationship with Howard Stark. Steven Rogers, aka Captain America, has never had much experience with the ladies as is evident by his failed and (at first) awkward interactions with them in the film, and I can relate to him because I do not have much knowledge of Captain America prior to the movie. So die-hard comic and 1979 TV Captain America fans, do not come after me with this patriotic shield, this is strictly a movie review.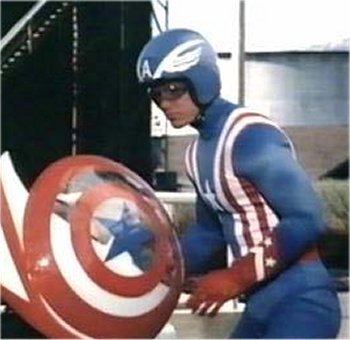 It is a universal fact that America is awesome at summer blockbusters and Captain America does not fail. Director Joe Johnston (Honey, I Shrunk the Kids; Jumanji; The Wolfman) has given us the quintessential feel good summer hit, jam packed with explosions, evil and leaving us wanting more.
We start in in the remote, arctic land where the government has made a discovery, something patriotic frozen in the ice. Or, if you attended the theater I was in, you thought you were watching the first few moments of a nuclear fall out because everything was pink and green and who knew 3D glasses were supposed to be like that! Oh, wait, they don't know how to work the projector, just kidding. ANYWAY, immediate flash back, WWII is underway and we get our first glimpse of evil, no, not Hitler (so cliche) but of Johann Schmidt/Red Skull (Hugo Weaving) searching for a hidden energy source from the gods. On the other side of the pond, we see our future hero, Steve Rogers (Chris Evans aka hubba hubba), a tiny, digitally emaciated-man attempting to join the army in order to serve his country in the midst of the war. However, the army doesn't like little people (sorry, Peter Dinkledge, wrong era), but Mr. Rogers keeps attempting to join, because for what he lacks in muscle he makes up in heart.

That is until Dr. Abraham Erskine (Stanley Tucci) comes along and changes his life forever. Side note, I'm pretty sure I enjoy Stanley Tucci play any character, ever. Even with a semi-ridiculous German accent. Stanley Tucci for president.
ANYWAY, Dr. Erkskine has some science going on up in this, and he has a plan to invent the next super soldier in the fight against Hitler and Schmidt but he needs the perfect candidate to try it out on and who better than the boy with the golden ticket, I mean heart. With Dr. Erkskine's help, Steve Rogers goes from this:
to this:
And now the real fun begins. Steve Rogers is transformed from little buddy always willing to fight the bullies to stud muffin selling some bail bonds to war hero saving the day as our Captain America.
Director Joe Johnston keeps up the pace by his use of oh-so-subtle movie montages and a tight script to keep the audience engaged while also not taking itself too seriously. Shot in a manner recalling the war films of the decade its set, Captain America strives not to make it so much about nationalistic pride, but about the golden rule of using your super science power for good and not for evil. With fun supporting characters (Tommy Lee Jones hams it up a bit and they definitely could have used more Tucci) and a strong female lead (Hayley Atwell as Peggy Carter knows how to kiss with a fist if you know what I mean, zing!) this fun movie thrives in light-hearted charm and action. While the few quibbles one would have don't really hold the movie back (we get it, you don't have to repeat the memorable quotes over and over and sometimes, the evil guys will have guns that evaporate you and sometimes, they just have a knife and will cut you the good, old fashioned way) I can not tell you whether or not it stays true to the comic, but if you're a newbie like me, do not fear about missing out on all the references, it's still an enjoyable ride, even in 3D.